Latest News
May 2022 ELN meeting in London
This year, London was the location for a very long-awaited meeting. ELN's member firms travelled to the new Joelson office for the first face-to-face meeting following the global COVID-19 pandemic.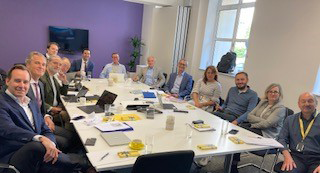 ---
May 2019 ELN meeting in Rome
On May 17, the ELN members convened at member firm Quorum Law's office in Rome for our first get together of 2019.  We covered developments and news of our respective member firms, legal and national developments in our respective countries, talked about Brexit, foreign direct investment laws and had a very informative presentation on law firm public relations and client crisis communication from Barabino & Partners.  As usual, the event was accompanied by great food and great friends catching up with each other.